vmax+spin-on+oil+filter+adapter

Order by phone 1-866-238-5450  to Order a Hyperpro Damper

CB-599 (600 Hornet) (2003)

CBR-600F F1/F2/F3 (91-98)

CBR-600F F4 (99-00)

CBR-600F F4i (2001)

CBR-600RR (2003)

CBR-900RR (92-95)

CBR-900RR (96-97)

CBR-900RR (98-99)

CBR-929RR (00-01)

CBR-954RR (2002)

VTR-1000F SUPERHAWK(1997)

RVT-1000 RC-51 (00-01)

RVT-1000 RC-51 (2002)

CBR1000 (2004)

CBR-1100XX (97-99)

ZXR750 (1993)

ZX-6R NINJA (95-97)

ZX-6R NINJA (98-99)

ZX-6R NINJA (00-02)

ZX-6RR & ZX-636R (2003)

ZX-6RR & ZX-636R (2003)

ZX-7R NINJA (1996)

ZX-9R NINJA (94-97)

ZX-9R NINJA (98-99)

ZX-9R NINJA (2000)

ZX-9R NINJA (00-01)

ZX-9R NINJA (2002)

ZX-10R (2004)

ZRX-1100/1200 (1997)

ZX-12R (00-01)

ZX-12R (2002)

ZZR-1200 (2002)

Z-750 (2003)

Z-1000 (2003)

GSX-R 600 (96-99)

GSX-R 600 (2000)

GSX-R 600 (2001)

GSX-R 600 (01-04)

GSX-R 600 (2004)

GSX-R 600 (2004)

GSX-R 750 (90-93)

GSX-R 750 (96-99)

GSX-R 750 (01-03)

GSX-R 750 (01-04)

GSX-R 750 (2004)

GSX-R 1000 (2001)

GSX-R 1000 (01-02)

GSX-R 1000 (2003)

GSX-R 1100 (1989)

GSX-R 1100 (90-92)

GSF 1200 BANDIT (95-99)

GSX-1300R HAYABUSA (1999)

SV 650 (99-02)

SV 650 S (00-02)

SV 650 N (2003)

SV 1000 S (2003)

TL1000R (1998)

TL1000R (1998)

TL1000S (1997)

YZF600-R6 (99-00)

YZF600-R6 (01-02)

YZF600-R6 (99-02)

YZF600-R6 (03-04)

FZ-1 FAZER 1000 (2001)

YZF1000-R1 (98-99)

YZF1000-R1 (00-01)

YZF1000-R1 (02-03)

V-MAX/VMX 1200 (1985)

                           If you have 2008 or a bike not listed please call we can get it.    

  Active

Active (RSC) (Reactive Speed Control)The HyperPro RSC is the only active valving damper available. As steering speed increases, the internal valving changes automatically to increase the damping effect. This results in a light, easy handling ride at low speeds while still keeping the heavy damping during extreme situations

Stroke 75

Damping can be adjusted in a wide range, divided in 22 positions. This results in a smooth, light and easy handling at low speeds combined with heavy damping that AUTOMATICALLY kicks in during extreme situations. No other aftermarket company offers anything even close, a Hyperpro Exclusive feature found only on the RSC damper.

HyperPro Advantage

THE HYPERPRO RSC IS THE ONLY ACTIVE DAMPER AVAILABLE

Hyperpro's RSC "Active" valving means that as steering speed increases, the damping automatically increases. Our "Active" technology is far beyond what any conventional aftermarket damper offers, and is a Hyperpro exclusive.

                                                            Damper start at $340.00 Call for a price that will be very competitive...

T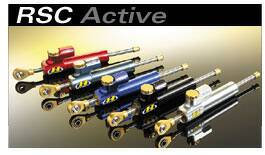 Call or email us for the best price.

sales@cycleoneoff.com